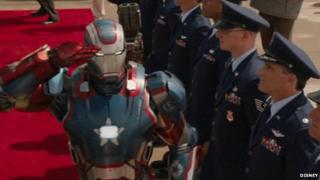 Iron Man 3 is the third film based on the comic book adventures of genius inventor Tony Stark.
Tony is a billionaire and self-made superhero who builds amazing armoured suits to fight crime.
He's been saving the world for 50 years since first appearing in his shiny suit in a comic called Tales of Suspense.
We asked you lot to design your own dream super suit and Joe showed them to the actor who plays Iron Man.
You can see the clip here. First though, here's what Joe made of the movie...
When's it out?
It's in cinemas right now (12A).
The plot
The film takes place a short time after the events of Avengers Assemble (here's our review of that movie!). In Avengers, Tony Stark saves the world from aliens by teaming up with other superheros but he almost dies. Iron Man 3 sees him struggle to get his confidence back as a hero and when he's attacked by a mysterious bad guy called The Mandarin, he has to rebuild his Iron Man suit to fight back.
The stars
Iron Man is played by the very cheeky and funny Robert Downey Junior. If you've watched the other Iron Man films you'll recognise other actors and actresses too like Don Cheadle who plays James Rhodes and Gwyneth Paltrow who plays Pepper Pots.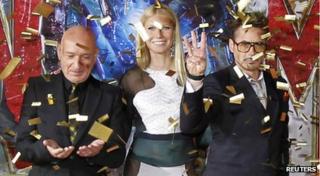 Hit or miss?
Hit! This is one of the funniest superhero films ever. Tony Stark is hilarious with his rude, cheeky attitude and there are loads of bits in it that are so silly they are laugh out loud funny.
The action is of course excellent too although there isn't as much as you'd expect. Part of the story is about Tony needing to work like a detective without his super powered suit so for that bit of the film is mainly talking.
The story line is a bit complicated but it all gets explained towards the end so if you struggle, just be patient and all will be revealed!
Overall it's a really fun and funny action film that I think your parents might enjoy almost as much as you!
NR STARS: 4/5.