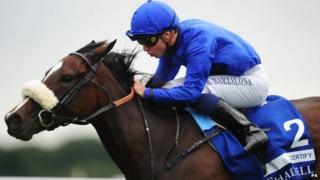 Top racehorse trainer Mahmood Al Zarooni has been charged after tests found traces of anabolic steroids in 11 of his horses.
The horses are from the Godolphin stable, owned by Dubai ruler Sheikh Mohammed, one of horse racing's most famous and successful stables.
The drugs are not allowed because they give the animals an unfair advantage in races.
Al Zarooni admitted on Monday to making a "catastrophic error".
'Did not realise'
He'll have to attend a special inquiry on Thursday by the people in charge of the sport, the British Horseracing Authority.
Al Zarooni said: "Because the horses involved were not racing at the time, I did not realise that what I was doing was in breach of the rules of racing.
"I can only apologise for the damage this will cause to Godolphin and to racing generally."
The 11 horses together have won more than £1.3m worth of prize money, and include unbeaten Certify, who will not be allowed to run in next month's 1,000 Guineas at Newmarket.
"This is a dark day for Godolphin," said stable manager Simon Crisford. "We are all shocked by what has happened.
"His Highness Sheikh Mohammed was absolutely appalled when he was told and this is completely unacceptable to him."