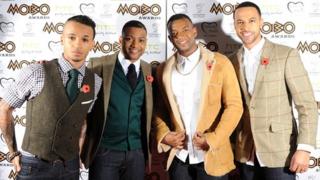 We remember the top JLS singles
JLS are undoubtedly one of the biggest bands in the UK.
Aston, Marvin, Oritse and JB have 10 Top 10 singles, five UK No.1's and two BRIT awards to their name.
Before they split for good the boys say they're going to release one more album of Greatest Hits.
But with so many good tunes, what's going to be on it? Check out Newsround's Top 5 list to see and hear the tracks that you loved most.
5) One Shot: This classic boyband ballad only reached No.6 in the charts, but ended up selling 352,000 copies.
4) Love You More: This soulful slowie has swagger and sincerity. It has heartfelt vocals and the chorus is rather catchy. It sold 370,000 copies.
3) She Makes Me Wanna: Cheese on toast, but this still sold over 400,000 copies, which makes it JLS' third biggest hit of all time.
2) Everybody in Love: Mushy lyrics and awkward dance routines was what this music video was all about. But the song wasn't half bad. In fact it was very good and sold 464,000.
1) Beat Again: Their first and in terms of record sales their best. A whopping 561,000 copies of this were sold in the UK. But will they be saying a year from now "lets just get together, we should have never broke up".