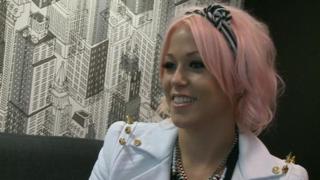 Chat: JLS announce they are splitting up
Get ready to wipe those tears away, JLS have announced they are splitting up after five years together.
The group, who found fame on The X Factor, will go their separate ways later this year following a farewell tour and greatest hits album.
"It's just that time. We are still best of friends and always will be - but this is the end," Aston said.
"The last five years have been nothing short of incredible," added Marvin.
The boys shot to fame in 2008, when they finished second to Alexandra Burke in the X Factor final.
Marvin, who is having a baby with The Saturdays singer Rochelle said: "We are the first X Factor act to finish a five-year recording contract. If we wanted to carry on and sign to another label, it was going to be another three, four or five albums.
"So we all thought about it for a few months and it sort of made sense to say we were moving on with our lives."
As the news spread celebs and fans reacted to the announcement.
One Direction member Louis Tomlinson said on Twitter that he was sorry to hear about the end of his fellow boy band. "Sad to hear about JLS. Wish them all the best of luck in what they go on to do," he said.
Singer Marcus Collins said: "Can't believe it! I'm devastated."
We want to know what you think about the split? What are your JLS memories? Are you sad to see them break up? What will you miss?
"Oh my days!!! They were the best thing that ever happened to me! Now I don't know what to do?!"
Fion, Newport, Wales
"I am devastated that JLS are breaking up, they were my favourite boy band. I am so upset! :( Goodbye JLS!"
Jade, England
"I think its time for them to move on, five years is a long time and they should be proud of what they have done during this time."
Grace, London, England
"I'm not particularly affected by the split but I do think they were incredibly brave to split. Instead of clinging on to fame they moved on to better things and I think that is truly inspiring."
Katie, Manchester, England
"I don't think JLS should split up, they not an old band and people are still huge fans of them, but if they think it's best then it obviously is for them."
Cara, Glasgow, Scotland
"I am very upset about JLS splitting up as I am one of their biggest fans. I wish they wouldn't split up because all of us fans will miss them."
Grace, Leicester, England
"I am personally pleased to hear they have broken up as I do not like their music, although I understand that they had many fans who will be sad to hear this."
Kate, South Wales
"It's a shame they are splitting up because they've done so well. I don't think that they should split up because they all work hard and write amazing songs, I hope they become solo artists!"
Daniel, Worcestershire, England
"I am devastated about them splitting up! They were the very first people I went to see in concert! I will miss them lots!"
Lily, Essex, England
"I gasped when I heard about it! I do not believe they are splitting up! I feel very upset, I was not a big fan of them but they have been a group since I was about five and my friends love them; bye bye JLS!"
Bethan, Cardiff, Wales
"I'm shocked! JLS were the boy band that nobody could ever forget! They have been famous for many years and I am sure they will never be forgotten!"
Rowan, Bromyard, England
"I am devastated to see the boys split up. My room is literally plastered with their posters, however I wish them all the best for the rest of their lives and it has been such an amazing journey for them, I will never forget them!"
Leah, Cambridgeshire, England.
"I am very sad about JLS splitting up but wish them all the best. I will always remember them for their GREAT songs."
Alex, London, England
"I was shocked to hear that JLS are splitting up because they are one of the best boybands ever and I will miss them lots!"
Lily, Hampshire, England
"Why are they splitting up? They have been together for five years, that's not long enough!
Katie and Emily, Wiltshire, England