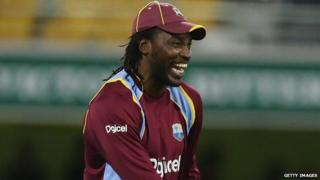 Chris Gayle set a new record for the fastest century in professional cricket history, reaching 100 in just 30 balls.
He smashed 17 sixes and 13 fours in his 66-ball innings, finishing on 175 not out - the highest-ever T20 score, beating Brendan McCullum's 158.
The West Indies batsman was playing for Royal Challengers Bangalore against Pune Warriors in an Indian Premier League (IPL) Twenty20 match.
Bangalore scored 263-5 - the highest team score in the Twenty20 format.
The team's score beats the previous best of 260, set by Sri Lanka against Kenya in Johannesburg in September 2007.
Gayle told ITV4: "I'm lost for words. It was just one of those days. It's a good wicket and I started well.
"I got a good total. I can't say it's a decent total - it's a good total.
"All I had for breakfast this morning was a plain omelette, two pancakes and a hot chocolate."