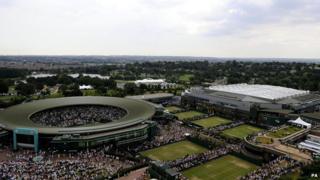 Wimbledon's Number One Court will have a retractable roof by 2019, the All England Club have revealed.
Wimbledon first broke with tradition by installing a roof on Centre Court in 2009, so play can continue even during the often wet British summer weather.
The All England Club also announced a 40% increase in prize money for this year's Championships.
The winners of the men's and women's singles will each pocket £1.6 million, up from £1.15m in 2012.
The total prize money pot, shared amongst the competitors, will be £22.6m at this year's event, up by £6.5m on last year.
Philip Brook, head of the Wimbledon Championships, said: "For the players, it is a deep appreciation of the demanding nature of professional tennis and the top-quality entertainment they bring, while for The Championships it is about giving all our visitors the finest stage on which to enjoy Wimbledon."