Dzhokhar Tsarnaev, the surviving suspect in the Boston Marathon bombings, has been charged by police at his hospital bed.
He's been charged with using and conspiring to use a weapon of mass destruction.
It's been just over a week since two devices exploded near the finish line of the Boston Marathon, killing three people and injuring more than 180.
Police arrested Dzhokhar Tsarnaev on Friday night after a huge manhunt.
Video evidence
Prosecutors have given more details about the evidence against Tsarnaev.
They say there is video footage of him dropping his backpack to the ground near the finishing line of the marathon. They then say he is seen to use his mobile phone, finishing the call just seconds before the first explosion.
At the hospital hearing where the charges were read out, Tsarnaev managed to speak only once due to his injuries.
Another suspect, Dzhokar's brother Tamerlan, was killed during a gun battle with police on Friday - but it's not yet clear exactly how he died.
Click here for advice on what to do if the news upsets you.
Police are looking into every aspect of the brothers' backgrounds to try to find out what could have made them turn to violence. At the moment investigators haven't found a clear motive for the attack.
Who are the suspects?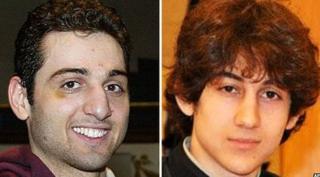 AP
Tamerlan and Dzhokhar Tsarnaev are thought to have lived in America for about 10 years, and had family links to the Russian region of Chechnya.
Chechnya is an area of Russia that's rich in oil - but it's been plagued by violence for many years, because some people there want it to be its own country.
The brothers moved to the US with their family in 2002, where they lived in the Massachusetts town of Cambridge.
Dzhokhar was in his second year as a university student, training to be a brain surgeon, his family said.
Tamerlan was said to be a brilliant boxer who had hopes of competing for the US Olympic team - but in recent times it's thought he became involved in Islamic extremism.
In 2011, the Russian government had asked investigators from the FBI (America's official crime investigation service) to carry out checks on Tamerlan after they suspected him of having extreme religious views.
The FBI are now being questioned about what checks they did, although they say they found no evidence of terrorist activity.