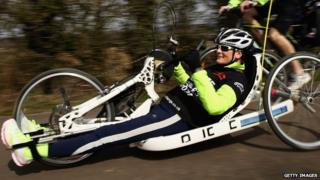 A paralysed athlete who was the first person to complete the London Marathon using a robotic suit has set off on a 400 mile bike ride.
Claire Lomas lost the use of her legs after a horse riding accident in 2007 but made headlines when she completed the marathon course in 17 days in 2012.
Claire did it on foot using the specially designed suit.
She's hoping to raise £400,000 for spinal research charities by hand cycling from Nottingham to London.
Raising awareness in schools
Claire said: "It will be a real test of strength and endurance but all for two very good causes."
During the challenge she will also visit schools to raise awareness about the work of charities that help people with spinal injuries.
She said: "After the marathon I was invited to go to quite a few schools and I've just loved it - the kids have reacted so well, so I thought I'd combine it with my next challenge."
Mrs Lomas set off from Nottingham Trent University earlier and hopes to arrive in central London in three weeks.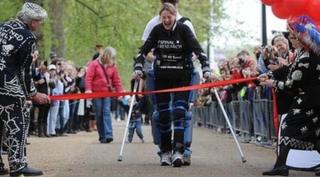 Claire Lomas was left paralysed when she broke her neck, back and ribs in a riding accident in 2007.
She walked up to two miles a day to complete the London Marathon course in 2012, accompanied by her husband Dan, mother Joyce and daughter Maisie. She also raised over £200,000 for Spinal Research.