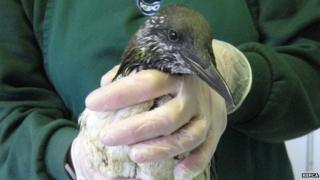 More than 1,000 birds of almost 20 species have been washed up covered in a sticky substance during the last fortnight, according to a charity.
The cause of the problem is the oil additive polyisobutene (PIB) which killed the birds off the south coast of England, the Royal Society for the Protection of Birds (RSPB) said.
More than 90% of the birds affected by the substance have been guillemots.
The government said discharges by ships were being investigated.
Last week, the RSPB said eight species had been affected but on Monday, it revised the number to 19 after further study of the information.
As well as guillemots, several razorbills, gannets, fulmars and puffins have been found covered in PIB.
The charity say that the birds found washed up were just a small percentage of those affected - which may be thousands more.
Almost 250 live birds have been taken into care by the RSPCA and the South Devon Seabird Trust since 10 April.
What is PIB?
Currently, PIB - which is used by ships to make their engines work more efficiently - can be released into the sea legally under certain conditions.
In February, the substance was found to have affected more than 300 birds along the south coast.
The RSPB don't know why more birds had been affected this time, but more species would be closer to shore as they were returning to their breeding sites.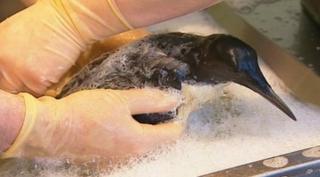 But they say it could just be a "much bigger spill".
The charity has called for PIB to be reclassified and for discharging of the substance to be made illegal.
The Maritime and Coastguard Agency said it was trying to determine the source of the latest incident but ended inquiries into the first discharge, admitting it was "highly unlikely" the ship could be found.
It added that every effort was being made to determine the source.