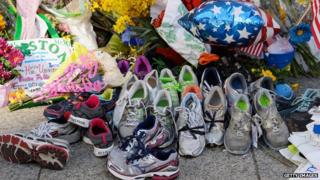 The man suspected of being behind the bombs at the Boston Marathon, 19-year-old, Dzhokhar Tsarnaev, is still in hospital and unable to speak.
Police arrested Tsarnaev on Friday night after a huge manhunt that locked down the city.
Tsarnaev was badly injured in the battle with police and remains critically ill in hospital.
On Sunday, a 30-second silence was held at the start of the London Marathon, to remember those who died in Boston.
Three people died and more than 170 were hurt in Monday's explosions.
Two bombs went off within seconds of each other, four hours into the Boston Marathon; then a big hunt began to find who was responsible.
Click here for advice on what to do if the news upsets you.
US President Barack Obama thanked the police for their work in the search.
He vowed: ''We will determine what happened. We will investigate any association that these terrorists may have had, and we'll continue to do whatever we have to do to keep our people safe.''
Rights exception
Another suspect, the man's brother Tamerlan, was killed during a gun battle with police on Friday - but it's not yet clear exactly how he died.
Dzhokhar Tsarnaev is currently unable to speak because of an injury to his throat.
It's been reported that he's communicating by writing but this hasn't been officially confirmed.
Normally when a suspect is arrested in America, police read them what's called their Miranda rights - which give them the right to a lawyer, and the right to remain silent.
But an exception can be made if it's thought that the public are in danger of an attack - so interrogators haven't read Tsarnaev his Miranda rights.
If he is charged with using a weapon of mass destruction to kill people, he could face the death penalty.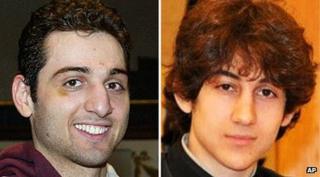 The suspects
Tamerlan and Dzhokhar Tsarnaev are thought to have lived in America for about 10 years, and had family links to the Russian region of Chechnya.
Chechnya is an area of Russia that's rich in oil - but it's been plagued by violence for many years, because some people there want it to be its own country.
Dzhokhar was in his second year as a university student, training to be a brain surgeon, his family said.