Thousands of rescue workers are trying to reach remote villages in south-west China, which was hit by a strong earthquake on Saturday morning.
The 6.6-magnitude quake struck rural areas of Sichuan province. At least 188 people died, 25 are missing and more than 11,500 have been reported injured.
Rescue workers are using dynamite and heavy equipment to get through roads blocked by landslides.
Many buildings were destroyed, and power and water supplies have been cut.
More than 18,000 soldiers and police are working in the rescue efforts, say reports from China's state news agency Xinhua.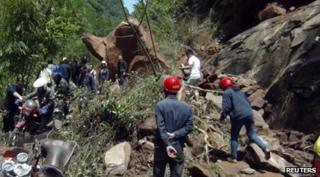 Reuters
But aftershocks and landslides are making it hard to reach some parts.
One injured man told Chinese TV: "We still live in our old house, the new one is not ready yet. Our house just collapsed. Everything collapsed."
Sichuan was devastated by an earthquake in 2008. Tens of thousands of people died and 5 million were left homeless.