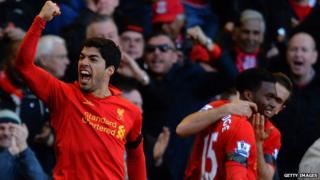 Liverpool's Luis Suarez has been fined for biting Chelsea's Branislav Ivanovic.
The striker tweeted: "I have asked the club to donate the money to the Hillsborough Family Support Group for the inconvenience I have created".
The incident took place midway through the second half of Liverpool's 2-2 Premier League draw against Chelsea.
The controversial forward has described his actions as "inexcusable" and phoned Ivanovic to apologise to him.
How much he'll be fined by the club isn't clear - but he could also face a ban from the Football Association.
Referee Kevin Friend did not see what happened and Suarez ended up scoring a last minute equaliser for the Reds.
BBC MOTD pundit and former Liverpool defender, Mark Lawrenson, said: "What he did has absolutely no place in football and he is going to get - and deserves - an extremely lengthy ban.
"He's a world-class player, but he gives you world-class trouble."
It's not the first time Suarez has bitten an opponent.
The Uruguayan international, who signed for the Reds in January 2011, was given a seven-match ban for biting PSV Eindhoven midfielder Otman Bakkal during a game in November 2010.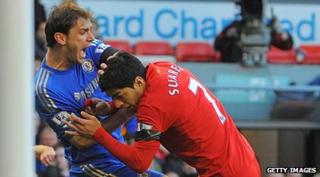 Last year he was given eight-match suspension and fined £40,000 for racially abusing Manchester United's Patrice Evra.
Suarez has had a good season for the Merseyside club this year though and has been named on the PFA Player of the Year shortlist.
What should happen to Suarez?
We want to know what you think should happen to Suarez. Should he be banned from playing - and if so, for how long? Or is just a fine a suitable punishment?
"As a Liverpool fan I am disappointed that he would do something like this, while wearing the LFC shirt. You wear it with pride and don't do stupid things like that. He should get a three match ban and £70,000 fine."
Steven, Liverpool, England
"I think that he should be banned as it is not allowed to bite anybody. Even my little brother, 3, gets severely punished for biting. This is unacceptable seeing as he is a grown man and he already has a bad reputation."
Lottie, Newbury, England
"I personally feel justice would be done if he was given some sort of community service. Despite the fine he is still one of the wealthiest footballers around. The fine to him probably seems like one pound to most of us! This will be a good chance for the FA to show that behaviour like this is unacceptable and I hope the FA establish among us that he is not a good role model."
Jacob, Long Eaton, England
"He is one the best players in premier league but he needs to control his temper. The FA should fine him and give him a match ban."
Lucas, Lincoln, England
"I think he should be put in a nursery because biting is what toddlers do."
Charlotte, Glasgow, Scotland
"I'm a Liverpool fan and I know it's wrong to bite people but he is a great forward and he does deserve a ban but he still has a future at LFC."
Robert, Leeds, England
"This incident was disgraceful and should not be tolerated, he deserves a ban!"
Chris, Portadown, Northern Ireland
"I think that he should be fined but also be sacked. There is no exception for being a good player."
Emelia, Stockport, England
"Suarez should never play again for Liverpool. He got banned for ten games for the same incident last time. No lesson learned."
Higgins, Bexhill, England
"I think Suarez should have a match ban of at least ten, carried into next season. This shows up everyone who is involved including all the Liverpool fans and everyone who works for the FA."
Katie, Portsmouth, England
"He's always getting into trouble, on and off the pitch. I think he should be removed from Liverpool FC because he is a bad representative and not allowed to play for the rest of the season."
Jessica, Douglas, Isle of Man
"I think Suarez should be banned for 10 games and have to have a public meeting with Ivanovic and say sorry."
Chris, Reigate, England
"Why would you bite someone? It's disgraceful."
Adam, Dartford, England
"I think a fine is a good punishment."
Olivia, London, England
"Suarez should be moved out of the team, he has had too many chances. He should also pay a fine of £100,000."
Jubeda, Sapphire and Diamond Class, Isle of Dogs, England
"I think Suarez should get banned for 15 games and should leave Liverpool in summer and sign for either Bayern Munich or Manchester City. Roberto Mancini has shown interest in the striker and should sign for the sky blues."
Ethan, Preston, England
"I think, as well as the fine, he should be banned from football for a short time limit because what he did was unacceptable and it should be punished."
Anna, Ashford, England
"Some people believe he should leave the club, some be fined 1 month's wages and that is given to charity. Others think he should be banned for years from football."
Class 3DO, Plaistow, England
"I think he should be banned from football for 2 months."
Cameron, Cleethorpes, England
"He should be removed from the English premier league, he's had too many chances and the FA have been too soft on him, it's time to take action."
Liam, Peterlee, England
Thanks for all your comments on this story. We are no longer accepting comments on this article.