Olympic gymnast Louis Smith has said it's inspiring when he hears kids are taking up gymnastics because of him.
He told Newsround: "I get more parents coming up to me saying that their kids are now doing gymnastics and they think you're great and they want to be like you, or they want to be like Beth [Tweddle].
"For me that's inspiring because I never had anyone to look up to."
Louis won silver in the pommel horse at London 2012.
He was also crowned Strictly Come Dancing champion last year.
Louis told us he keeps his trophy on his fireplace at home.
"I had a housewarming party the other day and more people took pictures with [the trophy] than they did with the Olympic torch!"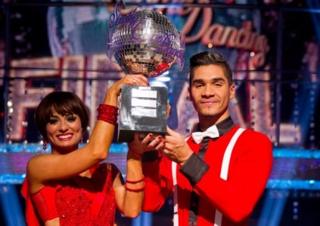 But he said he hasn't danced much since Strictly.
"I've not done any ballroom, I'd like to. I have fallen in love with it. It's brilliant, it's good fun to do. I'm sure when [former dance partner] Flavia's free we can do some events together."
Would he ever do Dancing on Ice like fellow gymnast Beth Tweddle?
"I used to skate a lot when I was younger so I think I'd be pretty good. But I think it'd be a bit unfair after doing Strictly."