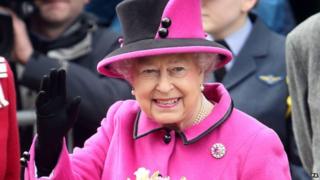 The Queen celebrated her 87th birthday with her family at Windsor Castle on Sunday.
On Saturday she enjoyed her favourite hobby - horse-racing - with a visit to Newbury Racecourse.
Gun salutes will be fired in London at 12noon on Monday, because her birthday falls on a Sunday this year.
Every year the Queen celebrates her actual birthday on 21 April and her 'official' birthday on a Saturday in June.
Why does the Queen have two birthdays?
Past monarchs' official birthdays have often been held on a different day to their actual birthday.
The main reason is when their actual birthday is not in the summer.
Having the official birthday in summer time means there's a better chance of good weather for the king or queen's birthday parade, called Trooping the Colour.
This year the celebrations are happening on 15 June.