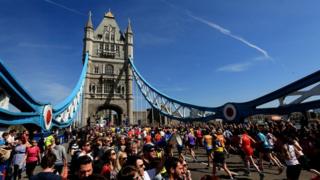 PA
More than 36,000 runners have been taking part in the London Marathon.
A 30-second silence was held for those killed and injured in the Boston Marathon bombs on Monday, before the main race kicked off at 10am. Many runners wore black ribbons.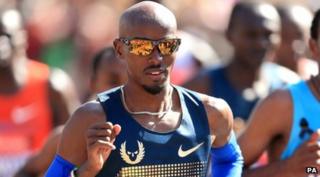 PA
Olympic champion Mo Farah completed his half marathon in an hour.
2010 winner Tsegaye Kebede of Ethiopia won the men's race. Kenya's Priscah Jeptoo came top in the women's race.
Paralympic champion David Weir missed out on a record-breaking seventh win in the wheelchair race. He finished fifth.
There was a dramatic moment in the women's race when Olympic champion Tiki Gelana of Ethiopia fell over after colliding with a wheelchair racer.
She was trying to grab a water bottle when it happened.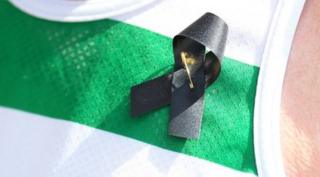 PA
It's thought around half a million people came to watch the 26.2-mile race across the capital.
Hundreds of extra police officers have been on duty to reassure the huge crowds, following what happened in Boston.
Many runners have been raising money for charity and some were aiming to break records - such as fastest marathon in a wedding dress!
Celebrities taking part included Harry Judd from McFly, who revealed earlier this month he'd developed a heart condition through his training.
Send us your message for the London Marathon runners
Do you know someone taking part in the marathon? What are they running for? Are they dressing up?
Perhaps you are going to watch the race?
This chat page is now closed but you can read some of your comments below.
Your messages
"My dad is taking part, I'm so proud of him!"
Aisha, Leicester, England
"Go runners!! I have just come back from a running trip to Paris, and everyone doing the London Marathon is inspiring to me! GOOD LUCK!!"
Maisie, Brussels, Belgium
"My auntie Sharon is running in the race. She is running in the same pen as the celebrities and the really good and club runners. Good luck, you deserve to win!"
Charlotte, Sutton, England
"I want to support ALL the participants, how on earth would you keep running for a whole 26 miles!"
Lara, Scottish Borders, Scotland
"Good luck to my dad and uncle! They will be running! They've been training for six months!"
Bethany, Northampton, England
"I wish all the runners good luck. Come on, Mo Farah!!!"
Holly, Leicester, England
"My friend is going as Shaun the Sheep. I wish all the best."
Fatimaj, Sherfield, England
"I think the people who do the marathon are awesome! I could never do that because I am really lazy. Good luck to everyone doing the marathon!"
Grace, Leeds, England
"My dad's going as a banana in pyjamas! I wish him and many more all the luck in the world!"
Cece, London, England
"Good luck to everyone doing the marathon! I will be there to cheer you on. You can do it!"
Robyn, London, England
"Come on, runners! You can do this! I admire all of the people taking part as it takes commitment and courage. People running the marathon inspired me to run the Sport Relief Mile a few years ago! Good luck to all the runners!"
Amaya, Bristol, England
"My brother is running and is going as Katy Perry. Good luck."
Olivia, London, England
"Come on runners, you can do it! Watching Ricky and Leah really inspired me, and I've already started training about 10 years before I want to do it!"
Subhan, Worcester, England
"I just wanted to wish Harry Judd (McFly) good luck for the marathon... He's put so much time into training and I'm proud to call him one of my idols!"
Chloe, Essex, England
"My auntie is going to run, she is dressing up as a chicken. I wish her good luck!"
Ruya, Portsmouth, England
"My friend's doing the marathon in fancy dress - she is going as Peppa Pig for a laugh and for charity."
Laura, Corley, England