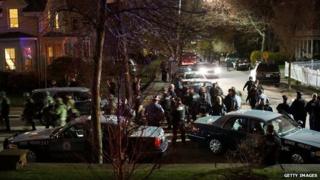 Police hunting a man they think was behind the Boston Marathon bombings have captured their suspect.
The 19-year-old, Dzhokhar Tsarnaev, was arrested on Friday night after officers found him hiding in a back garden.
It had been a worrying night for around a million people living in the city of Boston as they were told to stay indoors while police carried out their search.
Three people died and more than 170 were hurt in Monday's explosions.
Another suspect, the man's brother, died after being shot by police on Friday.
The pair are thought to have lived in America for about 10 years, and with family links to the Russian region of Chechnya.
US President Barack Obama thanked the police for their work in the search.
He vowed: ''We will determine what happened. We will investigate any association that these terrorists may have had, and we'll continue to do whatever we have to do to keep our people safe.''