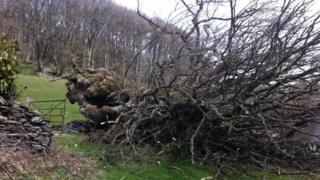 UK's 'oldest' oak tree blown down
A 1,200-year-old oak tree, thought to be the UK's oldest, has been blown over by the recent strong winds.
The Pontfadog Oak had been growing near Chirk in Wrexham, north Wales, since the year 802!
But gusts of around 60mph overnight on Wednesday toppled the old oak, with locals reporting an "almighty crash and a bang".
Its trunk measured nearly 13m around, was hollow and was big enough to fit six people sat around a table!