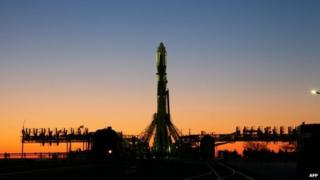 Mice, geckos and gerbils, amongst other creatures, were blasted into orbit above the Earth today on a mission to test the effects of long space flight.
A Russian Soyuz rocket took off from Kazakhstan at 11am UK time on Friday morning, with the animals on board.
They'll be monitored as they orbit the Earth on the Bion-M1 craft, before returning home safely, scientists say.
At a month long, this mission is a lot longer than previous ones testing the effect of space on animals.
The experiment's a joint venture between Roscosmos, the Russian Space Agency, and their American equivalent Nasa.
This is nothing new: animals have been launched into space for experiments for over 60 years.
Read more:Why are animals sent into space?
The animals on board this latest mission include 45 mice, eight Mongolian gerbils, 15 geckos, as well as snails, fish and tiny microscopic organisms.
They'll be carefully monitored throughout the mission to see how being in space affects them.
The scientists say that while the animals should survive the mission and return to Earth, they will then need to be put to sleep humanely so the experts can get the tests they need.