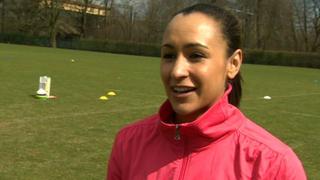 Jess Ennis on 'incredible' Chris Hoy
Jessica Ennis has paid tribute to fellow Olympic champion Sir Chris Hoy, calling him an "absolutely incredible athlete".
Six-time Olympic gold medallist .
"What he's achieved in his career is unbelievable," Ennis told Newsround in an exclusive interview.
"I think as an athlete you get to the stage where physically you're tired... Preparing for championships year upon year is really draining.
"He's achieved so much. I think he can proudly walk away from his sport and hold his head up high and be very happy."
The news means Hoy won't be taking part in next year's Commonwealth Games in Glasgow.
Ennis added: "But he's definitely left his stamp on cycling. He's had an incredible career and I wish him all the best for his future."