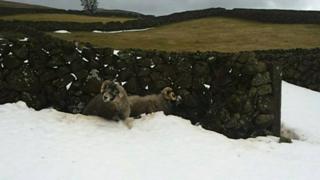 Two sheep have been found alive after going missing for more than three weeks in snow in Northern Ireland.
Farmer Sam Wallace called it a "miracle". He thinks the rams survived thanks to an air pocket in a ditch.
A man walking his dog spotted the two rams and told the farmer the good news.
Sam's son Graham said: "I had to see it to believe it. It was great to see them alive. It gives you a bit of hope when something lives, given what farmers have been through in this area."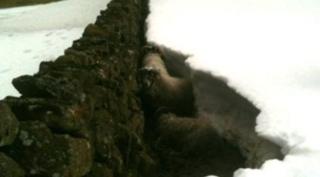 Last month's snow blizzard was devastating news for farmers across the UK, leading to the deaths of more than 20,000 sheep in Northern Ireland.
The two rams had no food for 23 days, but had water to drink once the snow began to melt.
They are now back with the rest of the flock and starting to put weight back on.