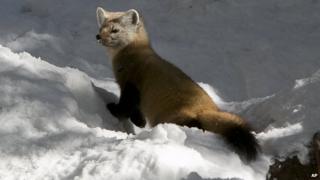 Numbers of one of Scotland's rarest animals - the pine marten - are increasing, according to a new report.
Experts had been worried about the mammal, a member of the weasel family, after populations fell for a number of years.
But a joint survey by Scottish Natural Heritage and the Vincent Wildlife Trust has found that numbers appear to be growing in parts of Scotland.
They estimate there are now about 2,600 to 3,500 adult martens.
They did this by collecting and testing pine marten droppings found along woodland tracks and paths.
The mammals are already found in the counties of Caithness, Moray, Perth and Kinross, Aberdeenshire, Angus and Fife.
However, they have now been spotted in southern Argyll and Stirlingshire too.
The growth's been caused by pine martens being given full legal protection in 1988 and more forests being planted during the last century.
Lizzie Croose, one of the survey's coordinators, said: "At a time when some native mammals are declining it is fantastic to see the pine marten population is recovering and expanding its range in Scotland."