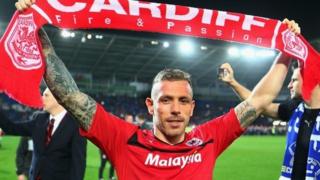 Watch Martin's report...
Cardiff City have made it into the Premier League after a goalless draw at home to Charlton Athletic.
Thousands of fans invaded the pitch at full-time as the home crowd celebrated a historic moment.
Next season will mark the first time Cardiff have played in the top division for 51 years.
They'll join arch-rivals Swansea, who were promoted to the top flight of English football in 2011.
Wales's First Minister Carwyn Jones praised the team, saying they had made the capital city "truly proud".
The club's star striker, Craig Bellamy admitted he'd shed tears of joy.
"It's just been a tough season, this Championship's just so tough," the Cardiff-born player said.
"And to be on top, to be one of the two teams that get promoted, it's just such an achievement for us."