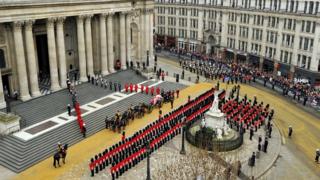 Baroness Thatcher's funeral takes place in London
The Queen joined representatives from 170 countries, and thousands of ordinary people - in London to pay their respects to Baroness Thatcher.
Britain's first and only woman prime minister died last week, aged 87.
A gun carriage drawn by six black horses carried Lady Thatcher's coffin through the streets to St Paul's Cathedral for the service.
A funeral service took place in front of over 2,000 people from 170 countries, including all surviving former British prime ministers.
PM David Cameron said it was a "fitting tribute" to a major figure.