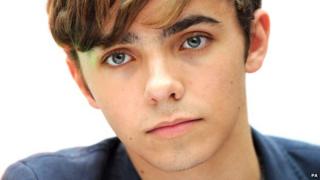 The Wanted singer Nathan Sykes will have specialist surgery on his throat to try to save his voice, the band's management confirmed today.
He'll have the operation in Los Angeles in America on Thursday 18 April - his 20th birthday - and won't perform with The Wanted for the foreseeable future.
Nathan's been struggling with his vocal cords recently and doctors have advised him he needs the surgery immediately.
It's to fix a vocal cord haemorrhage - the same problem Adele had in 2011.
A statement from the band's publicity manager said: "We can confirm that The Wanted's Nathan Sykes will undergo specialist throat surgery on Thursday April 18 in Los Angeles.
"The priority for Nathan, his label and management is that he is given time to recover and receive the best treatment possible."
The band were due to be recording their third studio album set for release later this year.