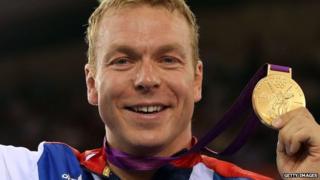 The UK's most successful Olympian, Sir Chris Hoy, has announced his retirement from cycling today.
Sir Chris won two gold medals at London 2012 and six Olympic golds in total. He also won 11 world titles in his career.
He made the announcement at a news conference in his home city of Edinburgh.
Were you inspired by Sir Chris Hoy?
Did Sir Chris Hoy inspire you to start cycling? Have any other Olympic or Paralympic athletes inspired you to take up a sport or follow your dreams? Let us know!
Your comments
"He has inspired me to cycle more as I now do more laps of my estate."
Suraj, Antrim, Northern Ireland
You must ask your parent, teacher or guardian for permission before you send us a comment.
We may show your comment on this page or in our bulletins on the CBBC channel. We'll show your first name and which town you're from - but we won't use your details for anything else.