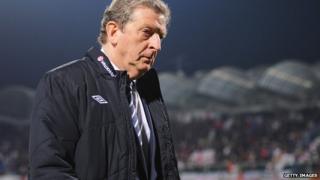 England manager Roy Hodgson tells a TV channel the number of foreign players in the Premier League is a disadvantage to his England side.
"We have one of the lowest number of homegrown players to choose from in all the leagues," he told Sky Sports.
"If you are national team manager, (that) is not a great advantage."
But Hodgson also claimed that having foreign players in the league can help British footballers develop.
Video: Hodgson's team not as good as Sven's - Owen Hargreaves
Hodgson, whose England side are having a far from easy ride in their 2014 World Cup qualifying campaign, has talked about a lack of homegrown talent in the past.
"Quite a few of the games I go to do not have any English players," he added.
"So, one has to be very careful these days when talking about the Premier League and talking about the Englishness of it, because more than two thirds of the players in the league are not English."