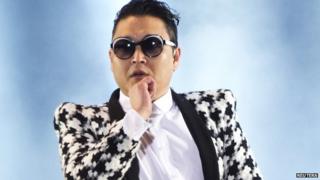 He became an internet sensation with his first single - Gangnam Style. Now Psy is at it again!
The South Korean popstar's new single Gentleman has been viewed online by more than 100 million people in four days.
The music video was published on 13 April and has since broken the record for the most number of people to watch a song online on its first day.
It had around 20 million hits in the first 24 hours.
The previous record for first day views was set by Justin Bieber's Beauty and a Beat, which was viewed 10.6 million times in 24 hours.
Psy has insisted that he's not trying for another worldwide hit with Gentleman.
He said: "I've been doing this for 12 years. Would it be fair to call me a one-hit wonder just because my next song falls flat?"
His debut single Gangnam Style became the most-watched YouTube video of all time with more than 1.5 billion views since it was published last July.