The Queen led mourners today at the funeral of Baroness Thatcher, the UK's first and only female Prime Minister.
A gun carriage drawn by six black horses carried Lady Thatcher's coffin through the streets to St Paul's Cathedral for the service.
A funeral service took place in front of over 2,000 people from 170 countries, including all surviving former British prime ministers.
PM David Cameron said it was a "fitting tribute" to a major figure.
Pictures: Margaret Thatcher's funeral
Four thousand police officers were on duty as large crowds lined London's streets to pay their respects to Lady Thatcher.
There were some protests as the procession went past, but nothing like the large demonstrations that some people predicted.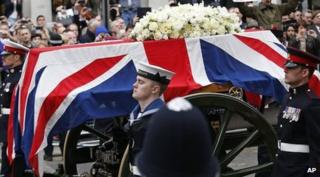 AP
Solemn service
The chimes of Big Ben were silenced for the first time nearly in 50 years, as a mark of respect.
A white floral arrangement on top of the coffin was topped with a card from Lady Thatcher's family, reading: "Beloved mother, always in our hearts."
Baroness Thatcher's 19-year-old granddaughter, Amanda, gave the first reading of the service. She was followed by Prime Minister David Cameron who read from John's Gospel.
The Bishop of London, The Right Reverend Richard Chartres, paid tribute to Lady Thatcher's strong character in a sermon.
He said: "Lying here, she is one of us, subject to the common destiny of all human beings."
Ceremonial funeral
Lady Thatcher, who died at the age of 87 on 8 April, was given a ceremonial funeral with military honours, one step down from a state funeral which is generally reserved for kings and queens.
It is the first time the Queen has attended the funeral of a British prime minister since that of Sir Winston Churchill in 1965. Churchill was prime minister during World War II.