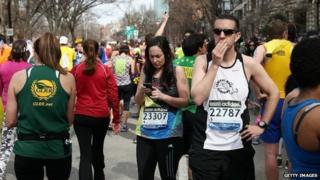 Getty Images
Security for this Sunday's London Marathon will be reviewed, but the race will go ahead, officials say.
At least three people were killed and more than 150 injured when two explosions hit the Boston Marathon in America on Monday.
Sports Minister Hugh Robertson said he was "absolutely confident" the London Marathon could be kept safe.
He said UK had some of the best security professionals in the world.
He also said he was "horrified" by the Boston blasts, but that the best way is to continue with plans for London.
Attacks such as the one in Boston are extremely rare, which is why there is such shock in America today.
Click here for advice on what to do if the news upsets you.
About 36,000 people are expected to take part in the London Marathon on Sunday morning.
Chief Superintendent Julia Pendry, the commander in charge of policing the London Marathon, said of Sunday's race: "A security plan is in place. We will be reviewing our security arrangements in partnership with London Marathon."
London Marathon boss Nick Bitel said in a statement: "We are deeply saddened and shocked by the news from Boston.
"Our immediate thoughts are with the people there and their families. It is a very sad day for athletics and for our friends and colleagues in marathon running."
London mood defiant
Mr Bitel later told the BBC that he "fully expected" the London Marathon, which first took place in 1981 and was completed by more than 37,000 people last year, to go ahead.
He said: "The London Marathon has detailed security plans which are developed... with the Metropolitan Police.
"They take account of many contingencies, including this type of threat and incident, but one can't be complacent and when it has happened, you need to then review those plans you have in place to see what else may be necessary.
"That is certainly what we are going to be doing."
London Mayor Boris Johnson described the Boston bombings as "shocking, cowardly and horrific".
He has spoken to the head of London's police about the possibility of extra security for the London Marathon.