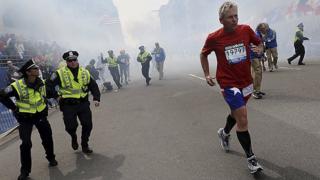 Ricky reports on the Boston Marathon explosions
Two explosions have happened near the finish line of the Boston Marathon, killing three people and leaving more than 100 injured.
President Barack Obama said those responsible for the attack would be found.
"We'll find out why they did this," he said, "(they) will feel the full weight of justice".
Security has been increased throughout Boston and in other cities across the United States.
The Boston Marathon is one of the biggest and most popular races in the world.
This year, around 23,000 runners took part and the race was watched by hundreds of thousands of spectators.
Boston police say officers are working around the clock to try and find out what happened.
Meanwhile, British police are reviewing security plans for Sunday's London Marathon, the next major international marathon, after what happened in Boston.
Click here to find out more about what to do if the news upsets you.