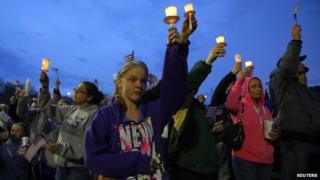 Reuters
Vigils have been held across the city of Boston in America to remember the three people who died and more than 170 injured in two explosions on Monday.
The attack happened near the finish line of the Boston Marathon.
US President Barack Obama will travel to Boston on Thursday for a memorial.
A major investigation's under way to find out who was behind the explosions, which President Obama condemned as a "terrorist act".
President Obama said those responsible for the attack would be found. "We'll find out why they did this... (they) will feel the full weight of justice".
Security has been increased throughout Boston and in other American cities.
The Federal Bureau of Investigation (FBI) has launched what they called a "potential terrorist inquiry" into the bombings.
The head of the FBI investigation, Rick DesLauriers, says: "Our mission is clear: to bring to justice those responsible for the Boston Marathon bombings.
"We will go to the ends of the earth to identify the subject, or subjects, who are responsible for this despicable crime and we will do everything we can to bring them to justice."
Attacks like this are rare
The Boston Marathon is one of the biggest and most popular races in the world.
This year, around 23,000 runners took part and the race was watched by hundreds of thousands of spectators.
Attacks such as the one in Boston are extremely rare, which is why there is such shock in America today.
Stories of heroism are beginning to emerge.
"Lots of runners went to the hospitals and offered blood," said one British runner who'd finished before the explosions happened. "People were sharing mobile phones so people without one could phone home."
And local paper, The Boston Globe, has reported on acts of kindness from local people towards marathon runners who were offered blankets and jackets, cash and food, and a free place to sleep.
"People in this city have been unbelievable," Glenn Sheehan, 50, a runner from South Carolina told the paper. "'Let me give you food, let me give you water' - it's been like that all afternoon."
Boston police say officers are working around the clock to try and find out what happened.
Click here for advice on what to do if the news upsets you.
Extra security for London Marathon
Meanwhile, British police are reviewing security plans for Sunday's London Marathon, the next major international marathon, after what happened in Boston.
Sports Minister Hugh Robertson said he was "absolutely confident" the race could be kept safe, saying that London has "enormous experience" of delivering major events and the UK has some of the best security professionals in the world.
Organisers of the London Marathon have said they will hold a 30-second silence at the start as a mark of respect to those affected by the explosions in Boston.