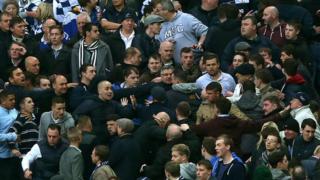 Martin reports on the weekend's violent scenes
Violence broke out at Millwall's FA Cup semi-final with Wigan, and at the Tyne and Wear derby in the Premier League.
At the FA Cup semi-final between Millwall and Wigan, supporters were injured, and younger fans left in tears as fighting broke out.
The following day, Newcastle supporters threw bottles at police and set bins on fire after their side's 3-0 defeat to local rivals Sunderland.
Newcastle United FC today said they'd impose lifetime bans on those responsible.