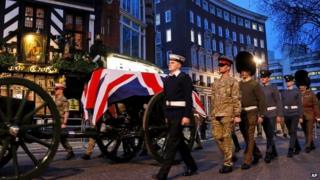 A military rehearsal of Baroness Thatcher's funeral procession took place in central London this morning.
Over 700 members of the armed forces from the Army, Navy and Air Force took part in the pre-dawn practice.
They will line the route of the funeral procession from Westminster to St Paul's Cathedral on Wednesday.
The coffin will start off from Westminster in a hearse but will be transferred to a ceremonial a gun carriage drawn by six horses.
The chimes of Big Ben will be silenced during the funeral as "an appropriate means of indicating our sentiments", Speaker of the House of Commons, John Bercow, told MPs today.
The last time the great bell was silenced on purpose was for former prime minister Winston Churchill's funeral, back in 1965.
Lady Thatcher, who died at the age of 87 on 8 April, will be given a ceremonial funeral with military honours, one step down from a state funeral which is generally reserved for kings and queens.
Video: Who was Margaret Thatcher and why was she important?
Major Andrew Chatburn, the man in charge of choreographing the parade, said the rehearsal "went very well" and it was "vitally important" to stage a trial of Wednesday's event.
"Timings are most important," he said, "these are sailors, soldiers and airmen who have come in to do this specific task from their routine duties, so it's new to them.
"They need to see the ground as well so they can get a feel for how it's going to go and they can perform their duties with confidence on the day."
On Wednesday, the former prime minister's coffin will initially travel by hearse from the Palace of Westminster to the Church of St Clement Danes - the Central Church of the RAF - on the Strand.
It will then be transferred to the gun carriage and taken in procession to St Paul's Cathedral.