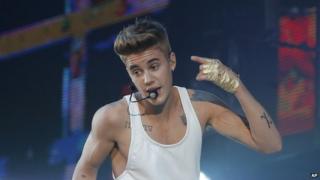 Justin Bieber has been criticised online after a message he wrote in a guestbook at the Anne Frank Museum in the Netherlands, was made public.
The 19-year-old pop prince wrote: "Truly inspiring to be able to come here. Anne was a great girl. Hopefully she would have been a Belieber."
He'd visited the museum in Amsterdam while on tour and his comment was later put up on the museum's Facebook page.
It upset many people on social networking sites.
They thought that talking about her being a Belieber is making light of the suffering Anne Frank endured.
"Absolutely disgusted," read one tweet.
"Way to turn an inspiring moment into something about yourself," said another.
The museum defended the star, but said his comment "wasn't very sensible".
A spokeswoman for the museum, Maatje Mostart added that they were pleased that Bieber had "made the effort" to visit.
Who was Anne Frank?
Anne and her family, who were Jews, lived in the Netherlands and went into hiding from the Nazis, during World War II.
She lived for two years in a secret attic apartment, keeping a diary of her day-to-day life.
She and her family were eventually discovered and taken to a concentration camp where Anne died shortly before her 16th birthday.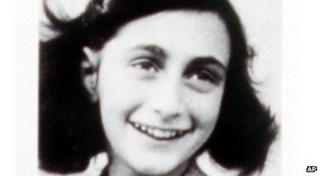 After the war was over, Anne's father published her diary which has been read by millions of people across the world.
Three weeks before her arrest, Anne wrote: "I hear the approaching thunder that, one day, will destroy us..."
"I feel the suffering of millions. And yet, when I look up into the sky, I somehow feel that everything will change for the better, that this cruelty too will end, that peace and tranquillity will return once more."