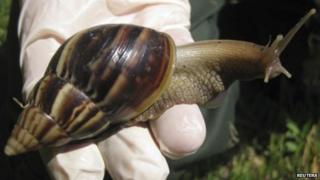 The state of Florida in America is fighting a growing infestation... of giant snails!
More than 1000 of the mighty molluscs are being caught each week in the Miami-Dade county area.
The giant African land snail can grow as big as a rat and damage buildings, as it gnaws through plaster.
It also attacks "over 500 known species of plants", according to Denise Feiber, from the Florida Department of Agriculture and Consumer Services.
Experts got together last week in Gainesville, Florida, for a Giant African Land Snail Science Symposium, to try and find out the best ways to get rid of the snails.
Ms Feiber said investigators were trying to trace where the snail infestation had started.
The worry is that Florida could soon be as badly hit by the creatures as some Caribbean islands like Barbados, where snail shells on the roads cause accidents, and pavements and walls are coated in slime.