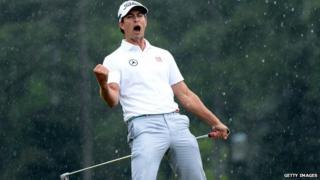 Adam Scott has become the first Australian winner of the US Masters golf championship.
It was the 32-year-old's first major title win, and came about after a sudden death play-off against former champion Angel Cabrera at Augusta.
Both golfers had finished the course on 9 under par, but a birdie from Scott on the second hole of their play-off gave him the title.
"It fell my way today," Scott said as he celebrated his victory.
"There was some luck there but it's incredible to be in this position. I'm honoured."
Guan Tianlang
The US Masters is the one of the big four championships in professional golf.
This year, 14-year-old Guan Tianlang, from China, became the youngest player ever to make it through to the second half of the tournament.
He finished his debut as the winner of the low amateur prize.