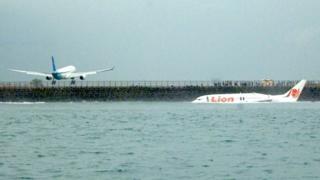 Plane lands in sea in Bali
Passengers and crew had a lucky escape after their plane landed in the sea after missing the runway in Bali.
More than a hundred people were on board and all survived the crash on the Indonesian island.
Seven people were taken to hospital but their injuries are not thought to be life threatening.
Pictures from local TV in Bali show the plane with a crack in the middle lying in the sea.
The Boeing 737 Lion Air flight was on a domestic flight trying to land at Denpasar Airport when it overshot the runway and landed in the sea.