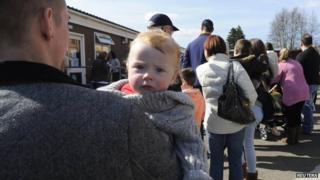 More emergency measles vaccination clinics are opening in South Wales to try to stop a measles outbreak from spreading further.
Almost seven hundred cases have been confirmed in and around Swansea since November.
In the last few weeks lots of parents have been queuing at centres to get their children vaccinated.
There are worries the number could rise when children return to school after the Easter holidays.
What is measles?
Measles is a viral illness which can make you feel really sick.
It causes a red-brown rash to appear on the skin and can make your tummy hurt and give you diarrhoea.
Symptoms usually last about two weeks, but in rare cases it can lead to further problems for kids who catch the disease.