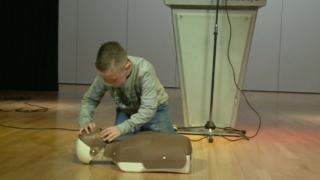 More defibrillators needed - Muamba
More than a year after collapsing on the pitch, Fabrice Muamba wants to teach children how they can help save lives using a defibrillator.
The Bolton Wanderers footballer nearly died last year during an FA Cup quarter final against Tottenham.
He suffered a cardiac arrest and his heart stopped beating for more than an hour. He was lucky to recover but had to retire from playing football.
On Friday, he visited a school the Oasis Academy in Salford to speak about his experience and teach children how using a defibrillator not only saved his life, but can save others too.