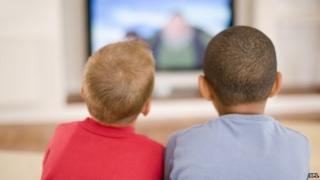 A campaign group is calling for all advertising aimed at primary school children to be banned.
Leave Our Kids Alone want to stop companies promoting clothes, toys, sweets and video games on websites, TV channels and magazines for under 11s.
They say TV adverts are manipulating children as young as two-years-old.
But the Advertising Standards Authority watchdog says British advertising rules are among the strictest in the world, especially for protecting children.
It says: "The protection of children sits at the heart of our work and we will not hesitate to ban any ad that is potentially harmful or inappropriate for them."
But they also say there's no evidence that there should be a complete ban on advertising aimed at kids.
The campaign group wrote a letter to the Daily Telegraph newspaper to raise the issue and are calling on the government to follow the example of other countries.
In Sweden, all TV adverts targeted at children have been banned since 1991 - and in Greece, toy adverts aimed at kids are banned at certain hours of the day.