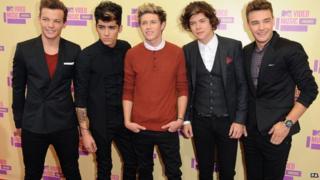 One Direction are on the Sunday Times Young Music Rich List for the first time, after making an estimated £5million each in the last year.
It's all thanks to a successful 2012 for the boy band, whose two albums went straight to number one in the US.
The success of Up All Night and Take Me Home made them the first British band to go to number one in America with their first two albums.
Adele tops the list of artists under 30 with an estimated £30million fortune.
Next on the list is Cheryl Cole whose fortune is thought to be £14million, followed by Leona Lewis and Katie Melua who are both valued at £12million.