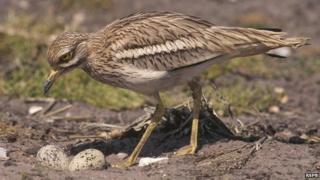 One of the UK's rarest birds is being put at greater risk of extinction by the cold spring, according to bird experts.
The Royal Society for the Protection of Birds said the bodies of eight stone curlews had been found in fields in Norfolk, Suffolk and Wiltshire over the past few days.
The birds were very underweight and the charity thinks they may have come from Africa and Spain but couldn't find enough food to survive
The birds weighed about 300g (10oz) compared to what is considered a healthy weight of 450g (15oz).
It's thought there are around 400 pairs of stone curlews in the UK.