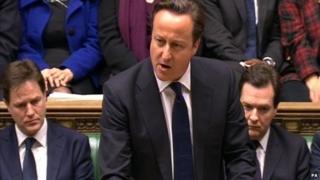 MPs returned to Parliament today for a special debate about the life of Baroness Thatcher, who died on Monday.
David Cameron led the tributes and told MPs that Thatcher "made this country great again" and described her as an "extraordinary woman".
He described as "remarkable" the fact that she became prime minister at a time when it was "almost inconceivable" a woman could hold the role.
Labour's Ed Miliband said "she was a unique and towering figure" but also added that he disagreed with much of what she did.
Liberal Democrat leader, Nick Clegg, also spoke.
He represents Sheffield - a city where a lot of people lost their jobs during Thatcher's leadership. But he said that even those who don't respect her political ideas should still praise her personal achievements.
Before the debate started Ed Miliband told members of his party to respond 'with a respectful manner'.
But John Mann, a Labour MP, said the recall was a waste of taxpayers' money.
And a number of MPs from different parties decided to not take part.
Former Conservative leader William Hague said "It is right that parliament meets and commemorates the achievements of a leader of such historic proportions."