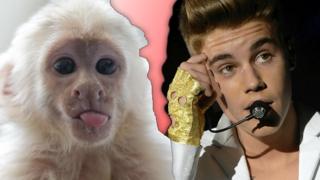 Justin Bieber's pet monkey, Mally, could spend 'months' in a German animal shelter whilst the star's management apply for a special visa.
The pop prince's fourteen-week old Capuchin monkey was held back at an airport in Germany because he didn't have the right paperwork.
Bieber had travelled from LA to Germany on his private jet as part of his Believe tour when his furry friend was confiscated.
A spokesperson at the airport said, "The animal was confiscated by us and has been found appropriate animal housing. The animal is doing very well."
But some are concerned for the creature. Animal shelter boss Karl Heinz Joachim said: "It needs to be with other monkeys at this crucial age."