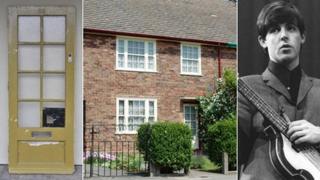 The dirty green paint is peeling and a window pane is smashed but this door could fetch £5000 at auction. Why? Because of its superstar connections...
It used to be the front door on the house where Sir Paul McCartney grew up.
The singer used to live at 20 Forthlin Road in Liverpool, from the age of 13 to 22.
Up to one hundred Beatles songs are thought to have been written and composed there.
After Sir McCartney's family moved out of the house the new owners had new doors and windows installed and threw the old ones out.
But a local musician, Glen South, decided to go get the door and has kept it behind his sofa since then!
Auctioneer Chris Albury said "It is a unique and iconic item and there will be more obsessive collector fans out there who will not hesitate to bid keenly."