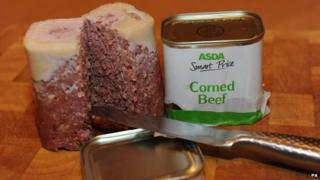 Traces of a drug used to treat animals, known as bute, has been found in Asda's budget brand corned beef.
The drug is a painkiller for animals and usually it is given to them by vets.
The Food Standards Agency said "very low levels" had been found in the product.
They also said it is the first time traces of the drug have been found in a meat product in the UK since the horsemeat scandal started.
Health experts say low levels shouldn't have any ill-effect on humans.
Scientists began testing tins of 'Smart Price' corned beef for bute after they found it had some traces of Horse DNA in it.
The supermarket chain is now asking customers to take the product back to their stores.