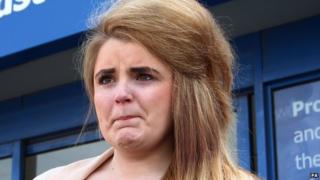 The UK's first youth police and crime commissioner, Paris Brown, has resigned after criticism of messages she posted on Twitter.
The 17-year-old, who was appointed last week, said she was "quitting in the interests of the young people of Kent".
Police are investigating tweets she posted between the ages of 14 and 16 which could be considered offensive.
Paris said: "I have made this decision after a great deal of thought and consultation with my family."
She went on: "I accept that I have made comments on social networking sites which have offended many people. I am really sorry for any offence caused."
Paris was chosen from 164 people who applied, to work alongside Ann Barnes who is the police and crime commissioner (PCC) for Kent.
Each police force in the country has an elected PCC.