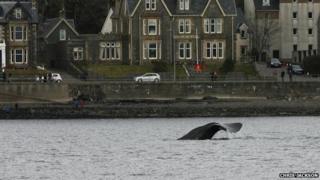 Chris Jackson
A sperm whale which has been in the shallow waters of Scotland's Oban bay, for almost nine days has swum back out to sea.
The whale was thought to be aged between 11 and 14 and about 12 metres long, weighing a massive 20 tonnes!
Boat and ferry owners have had to plan their routs around the whale to avoid any collisions.
Experts say this has provided whale experts with valuable information.
"Nobody has observed an animal of that kind so close to shore, in shallow water, for such a prolonged time," said David Scott, of the British Divers Marine Life Rescue.
"We don't know why he came into the bay but whales will seek shelter from time to time," David explained.
'Highly unusual'
"Normally these whales are in the Atlantic, in water thousands of metres deep," he said. "They are not used to things like tidal streams and there was a risk of him panicking and stranding.
"It is highly unusual to see something like this," he said. "If it happens again we have the knowledge to build on."