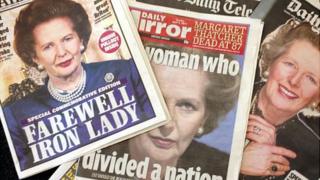 One day on, the media is full of reaction and comment on Baroness Thatcher, who died on Monday aged 87.
US President Barack Obama described her as a role-model for women. He said that "She stands as an example to our daughters".
Prime Minister David Cameron called her a "great Briton" who "has her well-earned place in history".
One thing the media seems to agree on is that Lady Thatcher inspired strong feelings, both good and bad.
The Daily Telegraph and The Daily Mail newspapers, amongst others, praised her.
The Mail labelled her as "the woman who saved Britain", while the Telegraph called her a "champion of freedom for workers, nations and the world".
And the Daily Express said "Farewell Iron Lady", quoting David Cameron's opinion that "she didn't just lead our country, she saved our country".
When she came to power in 1979 Britain had big money problems and many believe she helped turn those around.
The Sun wrote that it was "the end of a world political legend".
Video: Why was Margaret Thatcher so important?
But others haven't been so kind, with some blaming the former prime minister for damaging the country.
The Guardian wrote that she will be remembered for causing conflict between the British people, saying: "her legacy is of public division".
And the Daily Mirror's front page reads "The woman who divided a nation".
The Star - a local paper in Sheffield, a city where people blamed her for the loss of jobs in the city - printed: "We can never forgive her."
On Tuesday morning, Downing Street announced that Lady Thatcher's funeral would be held next week, and would be a grand ceremony attended by the Queen herself.