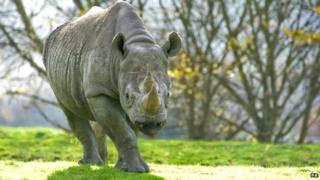 A new DNA database is being set up to hold genetic information about all the rhino horn held in museums and private collections in Britain.
The aim is to try to prevent freshly poached specimens being passed off as antique.
Museums will be asked to drill a hole in their highly valuable exhibits to collect the data.
Police say precise DNA knowledge will deter thieves and prevent smugglers making bogus claims.
Poachers are tempted by the high prices paid in China and Vietnam for rhino horn, which is used in traditional medicine in Asia. But there's no scientific proof that it has any medicinal properties.